ACT-DDP methodological approach
The project puts forward an innovative analytical method combining two building blocks:
The design of country-driven scenarios of long deep decarbonisation for selected sectors, providing broad visions and quantified pathways (DDP)
Methodologies for assessing companies' low-carbon strategies against those pathways and other sectoral benchmarks (ACT)
Deep Decarbonization Pathways
DDP approach and methodologies
The DDP community develops through their different projects and shares a common approach to design pathways across geographies and focus topics. This is based on a rigorous yet flexible framework that all stakeholders can adopt. This approach is proposed on an open-source basis, so that every government or stakeholder can propose and test its own pathways.
The main strengths of the DDP approach are:
helping to build qualitative narratives around the comprehensive consideration of decarbonisation drivers
translating them into quantified pathways through a combination of analytical methods and expert assessments
enabling their communication and comparison through standardised outputs in a transparent way.
The comparability is important because it allows for a constructive debate among stakeholders with different interests within a country, as well as at international level. Knowing and understanding the strategies of other countries and stakeholders enables them to learn from each other and to identify useful areas for cooperation.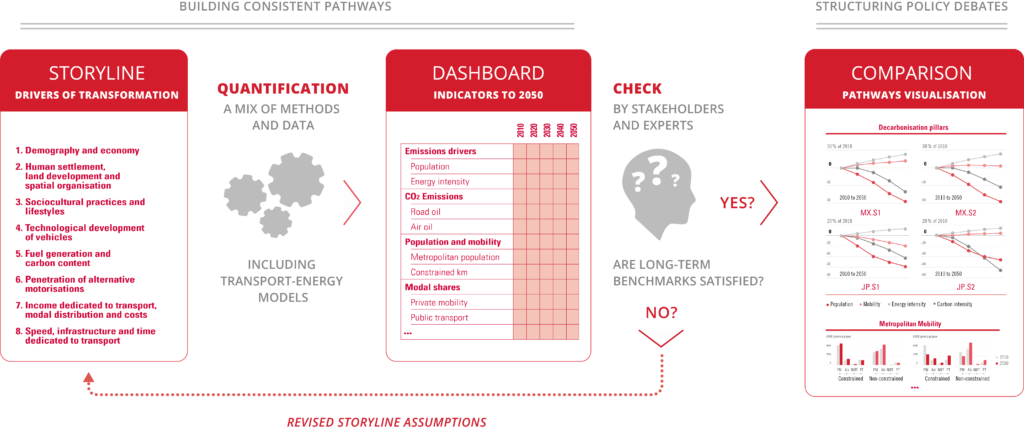 Discover the DDP methodological note for the ACT-DDP Project
Find out more about the DDP initiative, visit the DDP initiative
ACT Assessing low carbon transition
ACT approach and methodologies
The ACT initiative provides sectoral methodologies as an accountability framework within which to drive corporate climate actions and align their strategies with relevant and ambitious low-carbon pathways. ACT assessments provide companies with a feedback report outlining best practices and opportunities for improvement as well as a rating to track progress. ACT assesses the climate performance of a company by answering five questions about the climate transition
Has your company committed to a low-carbon future vision?
Are your emissions reduction targets ambitious enough to get there?
How quickly are you planning to act?
Do you have a transition plan to achieve your low-carbon vision?
Will it drive the evolution of your business?
Does your current strategy lead to a decrease in emissions in the short-term?
Are your investment decisions today made with the long-term future in mind?
How does the business decisions you made in the past influence your emissions trajectory?
Is your business strategy consistent with your emissions reduction targets?
Do any of your activities undermine your ability to reach a low-carbon future?
By covering the past, present, and future performance of a given company, ACT assessments reveal its low-carbon climate transition dynamic.
ACT assessments analyse company data against quantity and quality indicators taking a holistic approach and analysing the consistency of all the gathered information.
Discover the ACT Framework
Find out more about the ACT initiative, visit the ACT Initiative